Contrasts of Italy – Naples, Sorrento and the Amalfi Coast
Contrasts of Italy – Naples, Sorrento and the Amalfi Coast
Part 3: Tenacious Naples vs. Serene Sorrento and the Amalfi Coast
by: Emmy Hermes, Guest Contributor
 Now that we have discussed a couple of Italy's most popular destinations, Venice and Rome, it's time to go even deeper into our "Contrasts of Italy" blog series as we move further down the boot to the coastal city, Naples (or Napoli in Italian).
Through my own observation this destination tends to get mixed reviews from travelers due to its overtly gritty personality. Though Neapolitans are known for being quite eccentric in comparison to their Roman or Venetian neighbors, Naples is certainly worth a visit if not only for the fact that it is the birthplace of pizza. That's right, understated Napoli actually harbored the onset of one of the most timeless and beloved foods in not just Italy, but in the entire world! So, you can't visit Naples without sinking your teeth into some of the best pizza around!
Naples is also a very prominent gateway to some of Italy's most beautiful sites and beaches, namely the Amalfi Coast and all of the charming villages that lie within its horizon like Sorrento, Positano and Ravello.
The first thing you will notice upon arriving in Naples is its quirky layout. Buildings are positioned in a way that is reflective of how a small child would haphazardly scatter toy blocks about the bedroom floor. Mismatched and random, you'll find roads in Naples that lead nowhere and general stores that sit in resident backyards. In essence, the Naples city center is a prime demonstration of what can result when acting purely on impulse. While providing a compelling backdrop nevertheless, this arbitrary state of being can create confusion for travelers who are accustomed to traditional rules of the road and a more straightforward way of navigation. Because Neapolitans tend to interpret traffic laws as mere suggestion, successfully getting from Point A to Point B by car may prove difficult if afraid of getting aggressive behind the wheel. If exploring Naples by car seems intimidating, consider arriving by train (from Rome, for example) to more easily explore the historic city center, its castle, the National Archeological Museum and other main attractions by foot or by a hop on, hop off city sightseeing bus.
Naples city center by Visit Naples Italy
Mount Vesuvius, the only active volcano on the mainland of Europe, Herculaneum and Pompeii, an open air museum comprised of a city of ruins that is completely preserved by volcanic ash from over 2,000 years ago, are three of the major tourist attractions in this part of Italy. Looming over Pompeii, Vesuvius is a great hike for those who have always wanted to scale a volcano. Once you've made it to the top, you're given a wonderful bird's eye view of the Naples Bay and Pompeii. Keep in mind that it gets rather cool as you near the top, which could either be a frustration or a welcomed break depending on the time of year you choose to visit (Naples can reach some pretty steamy temperatures in the summer).
When touring these historic sites, remember to do as the Neapolitans do and "keep looking up." To keep looking up is a motto that has taken root over the years due to the heightened amount of litter that can be seen throughout the cityscape in comparison to that of the rest of the country. However, in lieu of this adverse circumstance, I stand behind my initial statement that Naples is a city to not be feared, but to be explored and appreciated for its unapologetic character. Look up!
Naples is beautiful! And the potential that it has in moving forward is undeniable. If you're looking for a city of people that stay true to themselves and do not cater to what they believe the tourists want to see, Naples should be your primary choice. If, however, you want to make it a day trip, see the sights but stay in a gentler setting, you're in luck! As previously mentioned, Naples happens to lie about an hour away from one of the most exquisite coastlines in all of Europe – the renowned Amalfi Coast!
Because Naples is home to a U.S. Military Base, I was fortunate to have housing and transportation provided for me by way of a former university peer who was stationed in the area. If not so privileged as to have a car during your stay, do not fear. There are several transport options available, the easiest and most straightforward option being the Naples Circumvesuviana Railway, or if you're partial to waterways, there are countless ferries that drop off at the ports along the coast.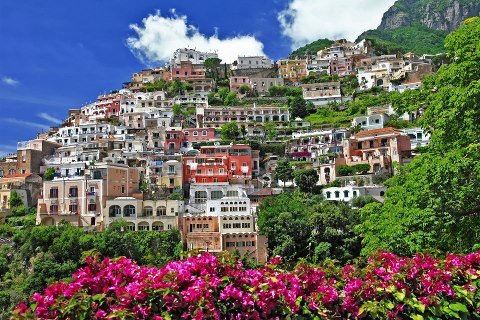 While any town along the Amalfi Coast is going to be breathtaking at absolute minimum, Sorrento is usually the most practical choice as a base due to its convenience in location (not to mention it's serene beauty), as it is a direct route from Naples via the train. Sorrento is textbook seaside Italy – frequenting the charming cafes, sunbathing on the alluring beaches, shopping at the local boutiques or enjoying limoncello or lemon granita while watching the sunset would be the main form of entertainment in this waterfront oasis. There are really no true tourist attractions other than the natural beauty that surrounds you from every possible angle.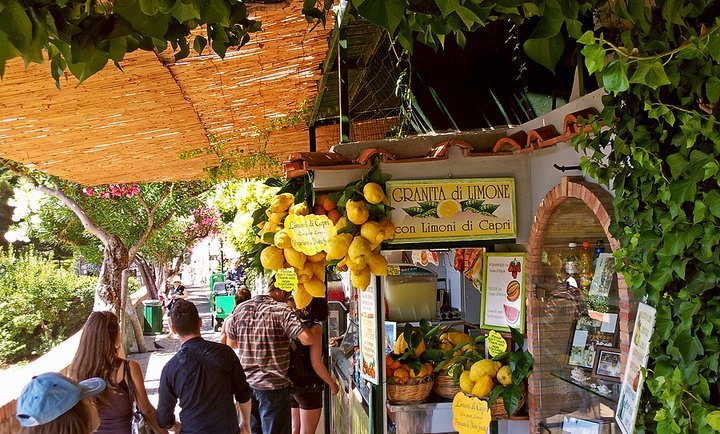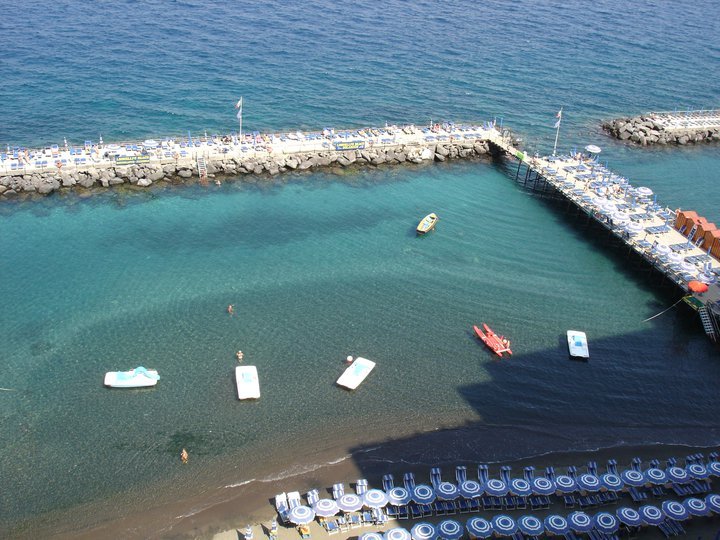 In fact, the Amalfi Coast in general is one of those destinations that is so naturally picturesque that you almost wish it didn't exist simply for the fact that other people have the privilege of living there and somehow, you don't. It's the Grace Kelly of Italy, no, Europe. She's beautiful and classy and does absolutely nothing to tarnish this reputation.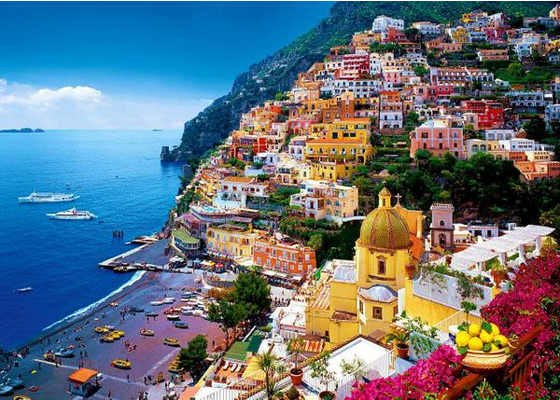 I recommend a good hike down the coast in order to really grasp its unmatched marvels. My friends and I hiked the Path of the Gods, and to put it simply, it was life changing. It is peaceful and stunning, and I could have traversed the cliffs for days! In addition to Sorrento, other places of interest that could be added to your itinerary are Positano, Amalfi, Ravello, the island of Capri and the various seaside villages tucked along the cliffside of the Amalfi Coast.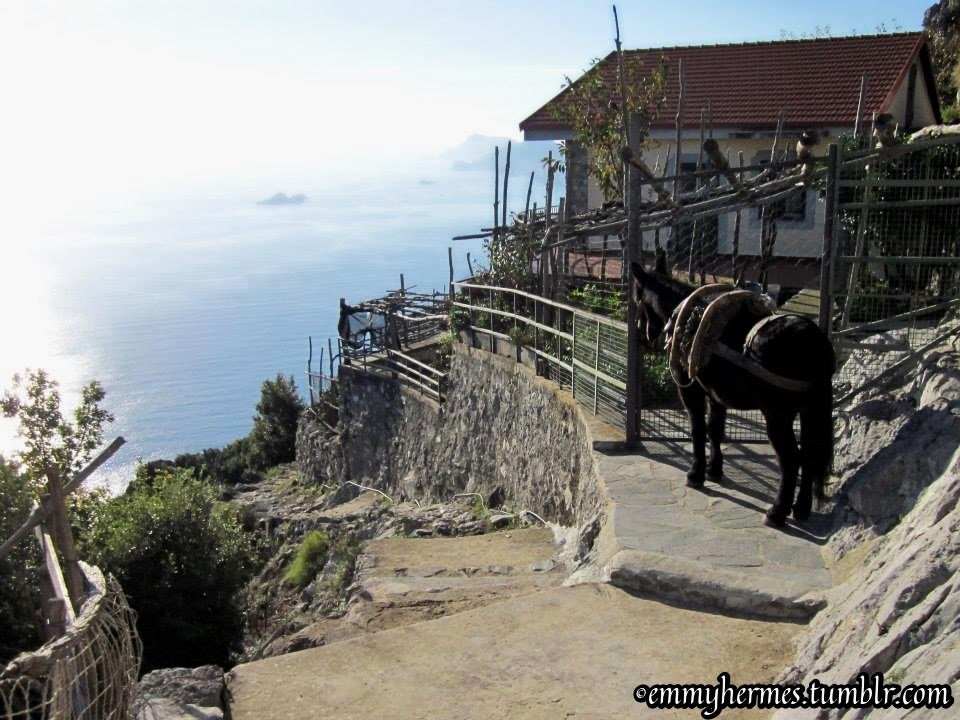 In hindsight, the comparison between Naples and the Amalfi Coast are almost unbelievable. If I hadn't witnessed it myself, I don't think that I could have possibly comprehended such a calm and gorgeous coast to lie so close in proximity with a city with a large and frenetic urban sprawl.  Then again, it would be hard to imagine the opposite as well – such a lively and charismatic metropolitan city to be outlined by something so utterly tranquil. But that is Italy, and that is exactly why I'm writing this series.
The contrasts throughout the country are incomparable to any place that I've been thus far. This diversity is Italy's charm, it is the magnetic pull that draws travelers in from all corners of the world – Enchanting Venice, Eternal Rome, Naples, Sorrento and the Amalfi Coast. Next…discover Florence, the epicenter of Italian art and Renaissance culture.
*Traveler's Note: The new "Campania Express" now takes passengers in 20 minutes from Naples to Pompeii and will terminate in Sorrento, on board there will be screens showing the best the area can offer.
Train information for Sorrento
Need help planning your trip to Italy? Contact Your Friend In Italy for Italy Travel Advice
 An area south of the Amalfi Coast which is less known but offers tranquility, pristine beaches and maybe even the fountain of youth is Cilento. Discover Cilento and Acciaroli, a village with one of largest populations of locals living over 100 years old! Ten Things We Love About Cilento in Campania, Italy
About Emmy: Emmy is a study abroad participant turned travel professional turned vagabond. She caught the travel bug after spending a summer in Spain in college and has since found herself on a continuous quest to experience as much of the world as possible. In 2014, after two years of working for one of the travel community's most renown trade associations, she decided to take a leap of faith and departed for the experience of a lifetime – a solo trip across Europe with nothing but her life's savings, a backpack and a pair of sturdy boots. Traveling on a budget is her niche. Follow along as she continues to document her adventures at http://emmyhermes.tumblr.com/

Tags: Amalfi Coast, campania italy, Capri, cilento, italy blog, Naples, Path of the Gods, Pompeii, Positano, Ravello, Sorrento
This article was written by yourfriend