Contrasts of Italy Rome
Contrasts of Italy – Rome
Part 2: Rome – The Eternal City
by: Emmy Hermes, Guest Contributor 
In Part 2 of this blog series, Contrasts of Italy, Rome is our next stop. Rome (Roma) is often referred to as The Eternal City – a designation that is by no means a hollow title. In contrast to Venice, Rome's serene and more traditional counterpart of the northeast, Rome is a fast-paced, modern city which is centrally located within Italy. Built upon ancient ruins, Rome is essentially an outdoor museum that is lined with architectural remnants for all to see at almost every corner. Adding even more to Rome's unique mystique is the fact that it is the only city in the world that houses an independent country within its boundaries (The Vatican City State), making it the capital of not one, but two European states. Pretty cool, right?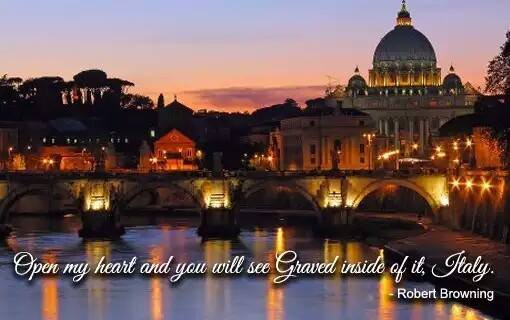 Because Rome is comprised of such a long and complex history, I would certainly consider a tour guide for at least a portion of your trip, especially for first-timers. Two essential walking tours would be a Vatican city and museum tour and a walking tour of Ancient Rome. With a seemingly endless list of historic buildings, museums and monuments, it's easy to become overwhelmed. Moreover, if you're anything like me, sites are always exponentially more impressive if given a full and clear understanding of where and how they came to be. City walking tours are always a good option for those who wish to cover a broader area in a shorter amount of time. However, some of the more popular sites like the Colosseum will provide on-site tours (self or guided) that have more in-depth information specific to their locale.
If walking the length of the expansive city seems intimidating or not exactly at the top of your wish list of things to do, then you might be excited to learn that the metro system in Rome is relatively simplistic and only includes two different metro lines (as I write this, City Planners are due to complete a third line – which has not proven to be an easy feat considering they must carefully dig underneath a city where ancient ruins exist). This is a great alternative for families with small children or for those who find themselves exploring the city in inclement weather.
To provide a starting point as you begin to research your trip to Rome, some of the must-see tourist attractions that made my personal list of favorites include the Pantheon, Trevi Fountain, Spanish Steps, Roman Forum, Castel Sant'Angelo, Piazza Navona, and the renowned St. Peter's Basilica that is located within the walls of Vatican City.
While Vatican City is presumably a bucket list item for practicing Catholics throughout the world, religion aside, this historic and clergy-filled enclave is sought after by travelers world-wide. Because Catholicism is the primary belief system in Rome, I asked an acquaintance of mine in Seminary (a college of theology) if he is ever treated differently by civilians when wearing his clerical collar. His response surprised me. "It all depends on how they feel about the church at the time, whether or not they are pleased or frustrated," he said.
Spanning just a little over 100 acres, The Vatican is a full-fledged independent city state and a cultural mecca for the arts, housing some of the most famous art in the world, particularly from the Renaissance era. No reservations are required to view where these pieces are held like inside St. Peter's Basilica, the Sistine Chapel and the various Vatican Museums, but it is highly recommended to pre-book entry when you can and to try to arrive early in the day as lines tend to grow exceptionally long, especially during high season in the spring and summer months. Remember too that St. Peter's Basilica is a practicing church that still holds mass daily. On Sundays the mass schedule runs continuously throughout the day. Because of this, it is not uncommon to see members of the clergy walking among the tourists throughout St. Peter's Square, providing its very own unique form of culture shock. After all, nothing says "When in Rome" like accidentally being photo-bombed by a Nun! Oops!
And of course, we can't write an article about Rome and escape discussing the absolute best part – the food! When in Italy, eat local at every given opportunity. Yet another reason tours can be beneficial to your trip is the fact that they are led by the most knowledgeable locals in the area. To avoid the tourist traps, say to them, "I want to eat where you eat," and then make a beeline for the provided destination. During my stay, I did just that and  was steered toward a small traditional restaurant called Der Pallaro [http://www.trattoriaderpallaro.com/] that is located in the heart of Rome and offers simple yet genuine Roman cuisine.
Authentic Italian restaurants like Der Pallaro typically serve meals that are made up of five courses in the following order:  antipasti, primo, secondo and dolce, usually consisting of: soup, cured meats and cheese, handmade pasta (pasta carbonara is a specialty in Rome), meat, and dessert. All washed down with an espresso at the end of your meal. This five course meal in conjunction with infinite carafes of wine will assuredly leave you spending the remainder of the day walking at a noticeably slower pace, perhaps with a distant look in your eyes of equal parts physical discomfort and total satisfaction – but don't worry, this is normal and is to be expected as part of the cultural Roman experience! And rest assured that you will be all too excited to jump at the opportunity of repeating the dining cycle on the days that follow.
No matter what drives you to travel, whether it is cuisine, art, architecture, religion or history, it can be found in abundance in Rome. Though Rome can often be heard being described as "overwhelming" or "chaotic," part of its allure is this contrast of a frenetic modern city functioning around an ancient past. If planned ahead and done right, Rome, the Eternal City, will easily rank as one of the most fascinating cities of Italy, the cultural epicenter of Europe and the pivotal meeting point of old and new.
Italy is definitely a land of contrasts. We have covered Venice and Rome so far…be sure to stay tuned for part three to discover more contrasts of Italy.
Planning a vacation to Italy but don't know where to start? Interested in having an Italy travel expert help you plan your trip? Email Your Friend In Italy:  info@yourfriendinitaly.com
About Emmy: Emmy is a study abroad participant turned travel professional turned vagabond. She caught the travel bug after spending a summer in Spain in college and has since found herself on a continuous quest to experience as much of the world as possible. In 2014, after two years of working for one of the travel community's most renown trade associations, she decided to take a leap of faith and departed for the experience of a lifetime – a solo trip across Europe with nothing but her life's savings, a backpack and a pair of sturdy boots. Traveling on a budget is her niche. Follow along as she continues to document her adventures at www.emmyhermes.tumblr.com
Tags: contrasts of Italy, pasta carbonara, rome food, rome italy travel, Rome sightseeing, St. Peters, The Eternal City, things to do in rome, trip to rome, Vatican
This article was written by yourfriend